Together for a better future we raised no less than 3,087,340 Swedish kronor! For The Perfect World Foundation gala "Save the Ocean" 2017 I had sculpted an almost four meter high sculpture from plastic waste from the ocean. I had also sculptured a collection of recycled bags sold before the gala. 100% of the money for these went to The Perfect World Foundation. I also sculpted a painting that was auctioned out during the evening. To my help in the creation, I had Sarah The Duchess of York and beneficiary Dr Sylvia Earle.
This painting ("Dancing in the Street 1" (134 x 127 cm) is a donation from the artist Charlotte Olsson to the charity organization Project Playground. Charlotte has created a heart of recycled craft on a background of corrugated metal (with bullet holes) from Langa, South Africa. She was inspired by the recycled materials and wants to convey the classic but oh so Important message: "You Can Have A tough face, but it's The Inside That counts" We can proudly announce that it raised 105,000 sek 20/3 2015 to the organization!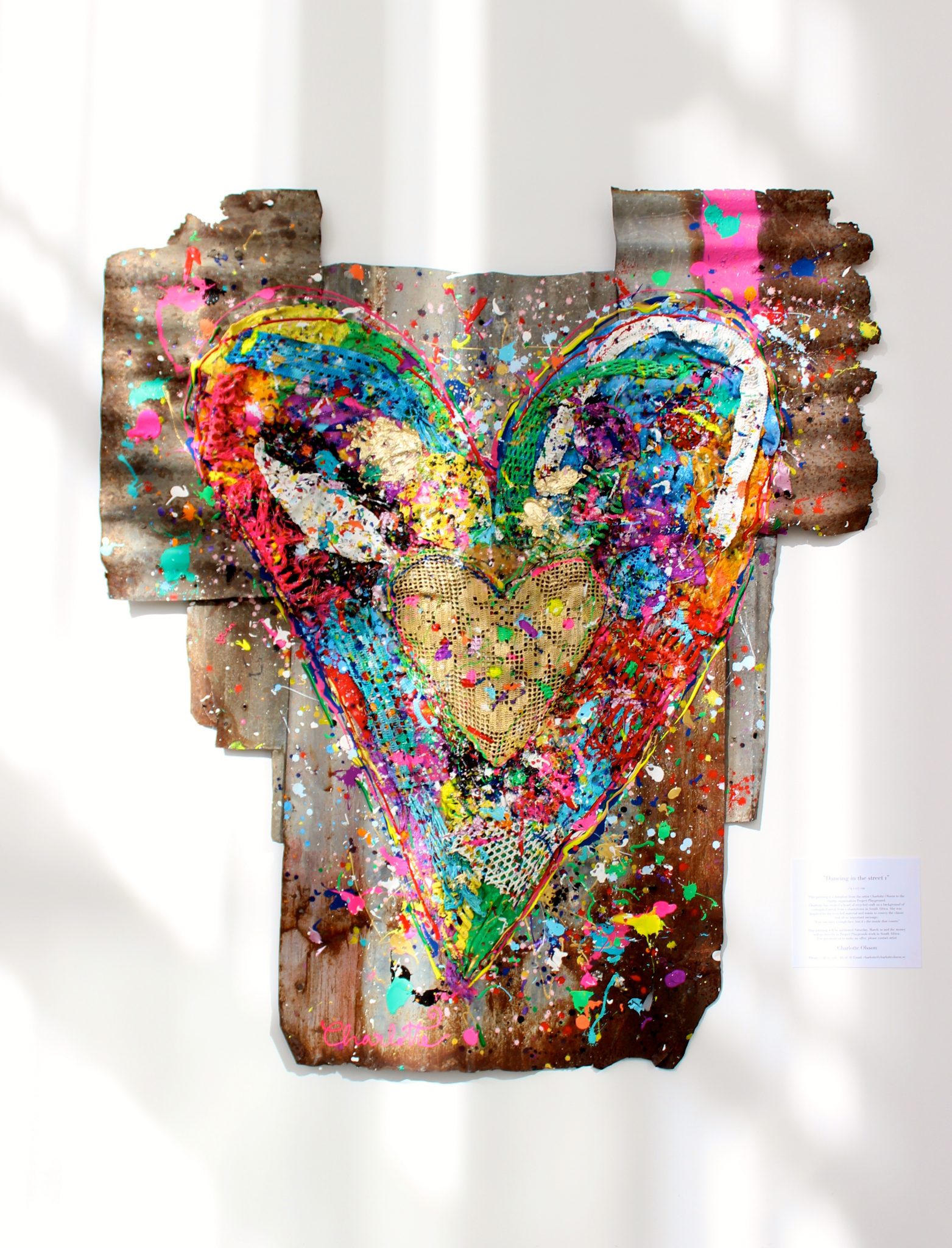 This is the painting "Heart of parts" that I created from old car parts from Hedin Bil's container. It was auctioned 16/10 2014 for the benefit of Ronald McDonald House Gothenburg. It was an exciting auction that ended at 100,000 sek. I would love to do more similar projects. It's important for me to contribute as much as I can!
Happy in my soul after the auction 25/3 2015 where my painting "Of True Love" was sold for 90,000:- Money that will be put to good use at the Ronald McDonald Hus. My biggest thanks to all contributors!
"Love conquers all" (91x60cm) This is the painting that I donated to Project Playground this year. It raised 80,000 SEK that will benefit this fantastic organization. I'm both happy and proud to have the opportunity to contribute to their important work!
For a good cause!

My

painting

raised 55.000sek to benefit the fantastic work of The Perfect World

Foundation

! Thrilled and proud to be able to contribute to the conservation

of the African

and the Indian elephant. I want my son to be able to see these

beautiful creatures

in reality, not to just read about them in history books! I

also created

a mask that

I donated to

the organization.

This truly was

an evening full of love! How much good we can do together

<3
Wow
⭐️
Under Jontefondsgalan inbringade min tavla "Wild Roses"  50.000:- (20.000:- över utgångsbudet!!) till
Jontefondens
makalösa arbete
❤️
Stolt och lycklig över att ha fått vara med och bidra
❤️
Visste du att det är tre gånger så stor risk att du kommer behöva en organdonation än möjligheten att få skänka? Om du kan tänka dig att ta emot ett organ borde det vara en självklarhet att också skänka, eller?! Ni som inte redan har registrerat er gör det här:
http://www.socialstyrelsen.se/donationsregistret
det går på några sekunder
❤️
I can proudly announce that my painting "Peaceful Harmony" raised 30.000sek to Project Playground , amazing Agneta Sjödin was one of the bidders!
My painting "Goodhearted" (45 x 35 cm) raised 11.000 SEK to benefit Goodhe-art-ed and Ung Cancer! Thank you for your amazing work! All the best!