Tack Hallå Långedrag för trevlig intervju🙌🏻 Konstrundan ligger mig så varmt om hjärtat, den vill ni inte missa – tro mig👌🏻

Ingen har väl missat att vi har en succé-konstrunda i Långedrag?! Senaste numret av Göteborg Direkt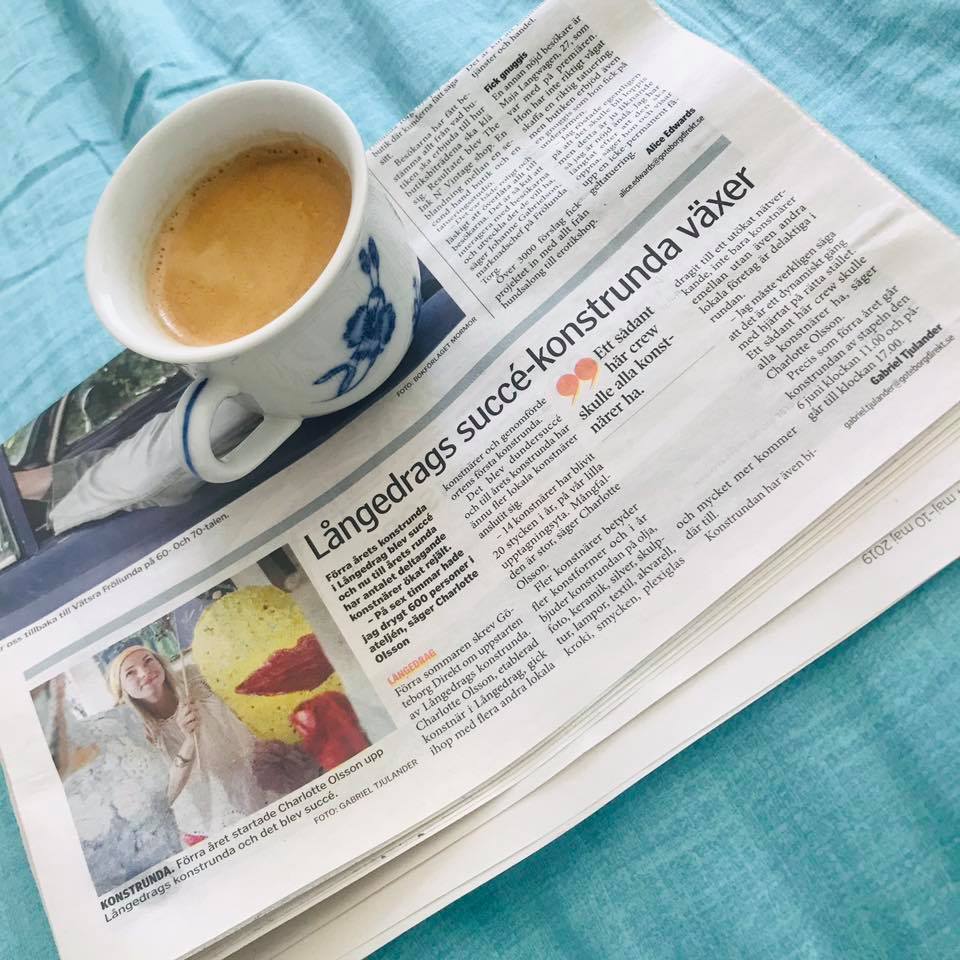 Morning sun at my breakfast table

☕️

To all you globetrotters out there.. Don't forget to look in the pocket in front of you! My very first ad is out. Page 11 in the latest issue of Scan Magazine.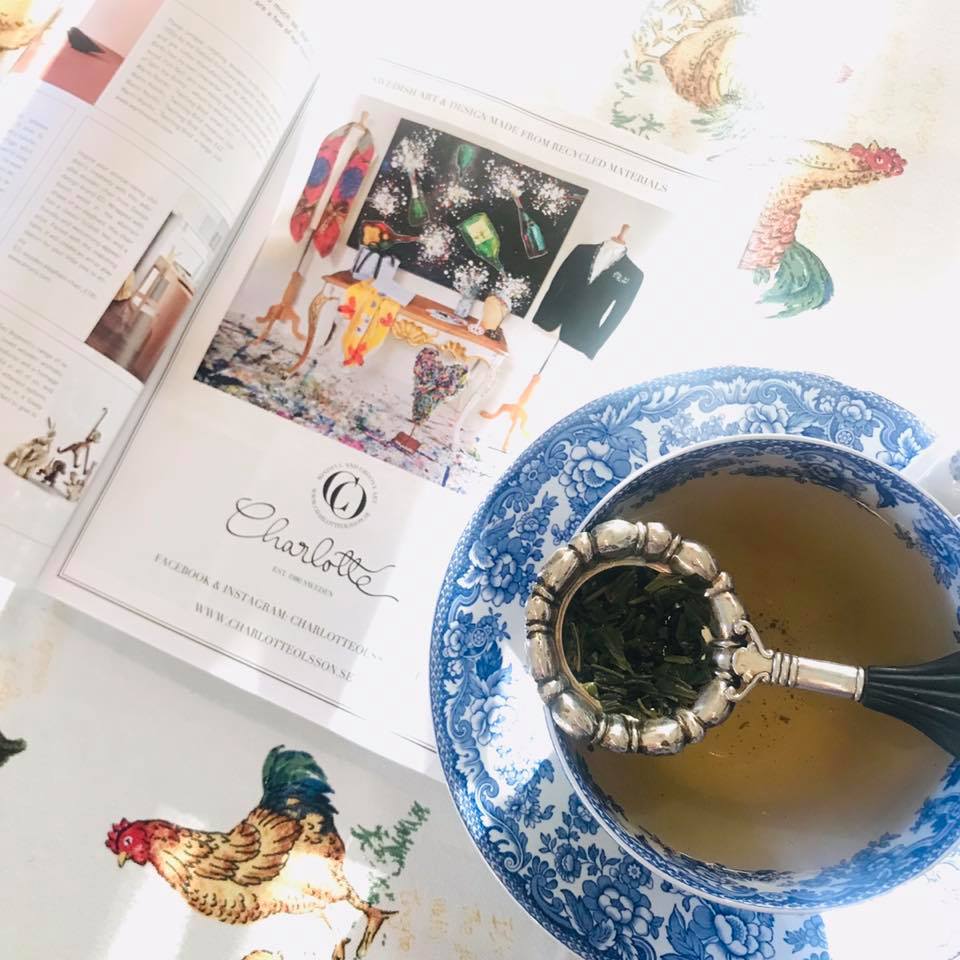 Hurray

💛

In the latest issue 2019 of the Swedish magazine TARA – för kvinnan mitt i livet the always so talented Katarina Althin has styled a great outfit with my Sunny Flirt wool/silk Scarf

💛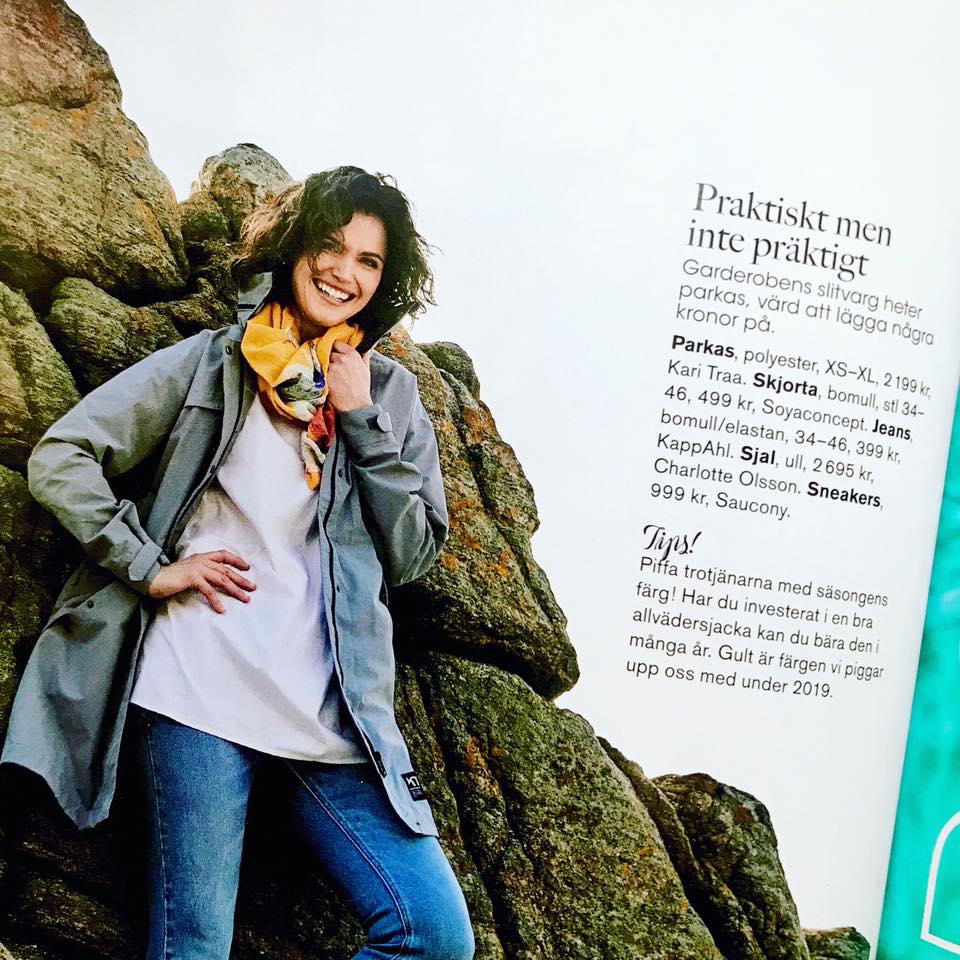 Lucky Love Scarf in the February edition 2019 of Älskade Östermalm
Hasse Andersson från Sveriges Radio P4 Göteborg kom på spontanbesök till min ateljé. Vi pratade om plastskräp i havet, välgörenhet och inspiration. Vill du lyssna på intervjun? Du hittar hela HÄR!
I'm overwhelmed! My Happy Cake Scarf is featured in American VOGUE! Check out number 14 on VOGUE's list "15 Fresh Ideas for Covering Up at the Beach this Summer". Thanks a million, wow this really is superduper cool!
Tackar P4 Väst, Sveriges Radio för trevligt reportage:
Vi tackar Hallå Långedrag för en trevlig artikel om KIL (Konstrundan i Långedrag) i senaste numret. Här står det om hur idén med konstrundan föddes och att framtiden ser ljus ut. Det kommer bli en underbar tradition
⭐️ För mer info följ oss på Facebook: @KILKonstrundanILångedrag
ELLE España (June edition 2018) knows what's goning on! Thank you for featuring my art and my collaboration with Fjällbacka Home&Garden in your latest issue
For those of you who do't speak Spanish it says in the rough: "At Home & Garden you'll find artwork of the artist Charlotte Olsson. Her work is a tribute to color and recycled materials." Not the most evolving article but still very, very proud!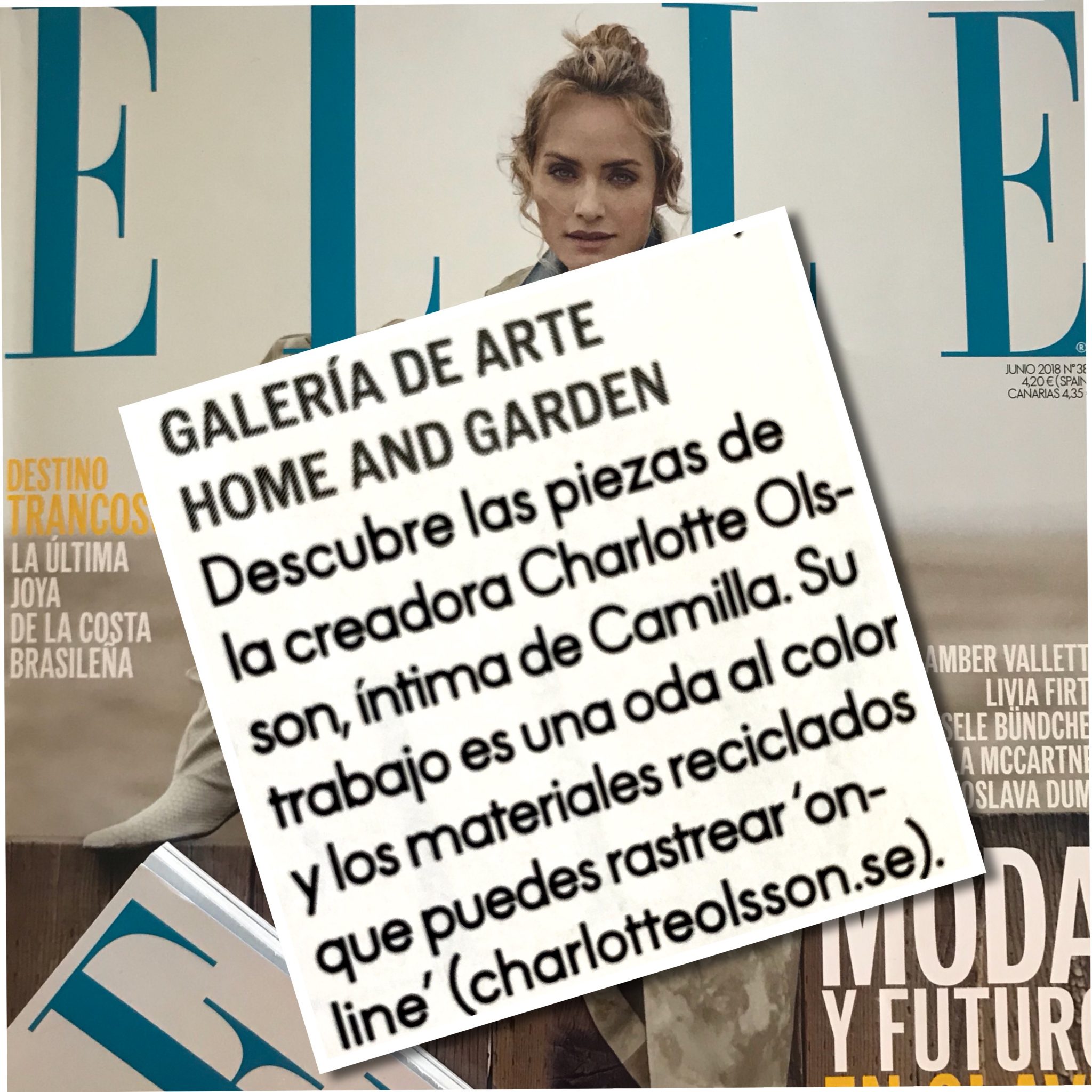 Tack Göteborgs-Posten som uppmärksammat vår konstrunda 5/6 2018 http://www.gp.se/…/fjorton-konstn%C3%A4rer-utmanar-i-l%C3%A…För er som inte prenumererar lyder texten:Fjorton konstnärer utmanar i Långedrag. Majorna har redan sin. Nu utmanar fjorton konstnärer med egen konstrunda i Långedrag på nationaldagen.Samtidigt med den årliga regattan i hamnen drar den i gång: Långedrags nya konstrunda, som samlat fjorton lokala konstnärer som gemensamt håller öppet hus i sina respektive ateljéer. Startpunkten är blomaffären och fiket Mötesplats Trädgård i Långedrag vid Långedrags spårvagnshållplats.– I cafét finns varje konstnär representerad med ett verk, så att besökarna kan välja vad som intresserar dem. Sedan hänvisas de vidare till de olika ateljéerna via en karta, berättar initiativtagaren Charlotte Olsson, själv en av de medverkande konstnärerna.– Jag ägnar mig just nu åt att skulptera i återvunnet material, berättar hon. Bland annat rör det sig om äldre handarbete som hon återskapar med hjälp av gamla ramar, plåtar och drivved.– När jag flyttade till Långedrag från centrum för åtta år sedan hade jag aldrig kunnat drömma om att konstlivet skulle vara så levande och att det redan fanns så många andra konstnärer här, säger hon entusiastiskt.– Men jag upptäckte ett litet och intimt område, där människor verkligen bryr sig om varandra, och där kreativiteten blomstrar. En kil är en kil är en kil. Nu har hennes dröm om att skapa en egen konstrunda i området äntligen blivit verklighet lagom till nationaldagen. Namnet Kil kom till av flera skäl.– Dels är ju Långedrag rent geografiskt utformat som en kil. Sedan utmärks området av att här finns många bergskilar på land. Närheten till havet och båtarna är också central. Ska någon förtöja sin båt vid en klippa används kilar. Konstrundan visar upp sammanlagt fjorton lokala konstnärer och gensvaret har varit enormt positivt enligt Charlotte Olsson. Bland de mer namnkunniga utställarna märks Annika Kihlman-Jensen, som arbetat som keramiker i över 50 år. Mest känd är hon för sina humoristiska lerfigurer, ofta med ordlekar i titlarna och anknytning till sagomotiv. Konstnären Kate Hellqvist, som målar i akvarell och olja, är även hon väletablerad med en karriär som sträcker sig över fyrtio år. Bland de yngre konstnärerna finns HDK-utbildade Oscar Gard Montán som arbetar med teckningar och utvecklar sitt intresse för koboltmåleri på porslin, och internationellt uppmärksammade Viktoria Hallenius som är konstutbildad i London och Skottland. Varför ville ni förlägga konstrundan just på nationaldagen? – Det är en bra dag, då vi också har en regatta i Långedrag. Några är intresserade av att titta på båtar, andra kanske är mer intresserade av konst, tänkte vi. Eller så intresserar du dig för både och, resonerar Charlotte Olsson. Vad för slags konst kan besökarna förvänta sig? – Det är otroligt roligt att det är en sådan blandning, i helt olika stilar. Här kommer att finnas något för alla. Etablerade konstnärer sida vid sida med de som ställer ut för första gången. Gamla som unga, män och kvinnor. Allt från målningar i olja till akvarell, fotokonst, skulptur, smyckeskonst, lampor, keramik. Det är inte klokt egentligen, så mycket konstnärlighet! Långedrag är känt för sina många miljonvillor. Är konsten ni visar upp väldigt dyr? – Även det varierar. Det förekommer säkert jättedyra föremål på konstrundan, men billiga också. Vi har eftersträvat en mångfald och vill välkomna människor från hela Göteborg. Meningen är inte att någon ska känna sig avskräckt. För mer info: KIL Konstrundan I Långedrag
Oh, how wonderful to read this nice article that has also been featured on the first page! Thank you very much Gothenburgdirekt and Gabriel Tjulander for the attention to the world premiere of our Konstrunda KIL, which takes place on 6/6. Many of hours of hard work lies behind and now the dream comes true. For more information, please visit our Facebook page: KIL Konstrundan I Långedrag Read the full article here: https://www.goteborgdirekt.se/nyheter/mot-konstnarerna-i-langedrag-du-inte-visste-fanns/reprex!i9fDg8QMtqvz2HrIjasg/
Vad skoj! Hela sidan 62 i Älskade Östermalm handlar om min konstutställning som pågår på Berns. (2018)

Allt om Stockholm 5/2 2018
Härlig läsning i senaste utgåvan (December 2017) av Fjällbacka Bladet. Jättefin artikel om hur Världens Vackraste Skärgård arbetar samt en väldigt trevlig artikel om hur jag tar tillvara återvunnet material i mitt skapande. Här står även om skapandet av skulpturerna "The Plastic Heart of Scandinavia" och "The Heart of Fjällbacka". Tack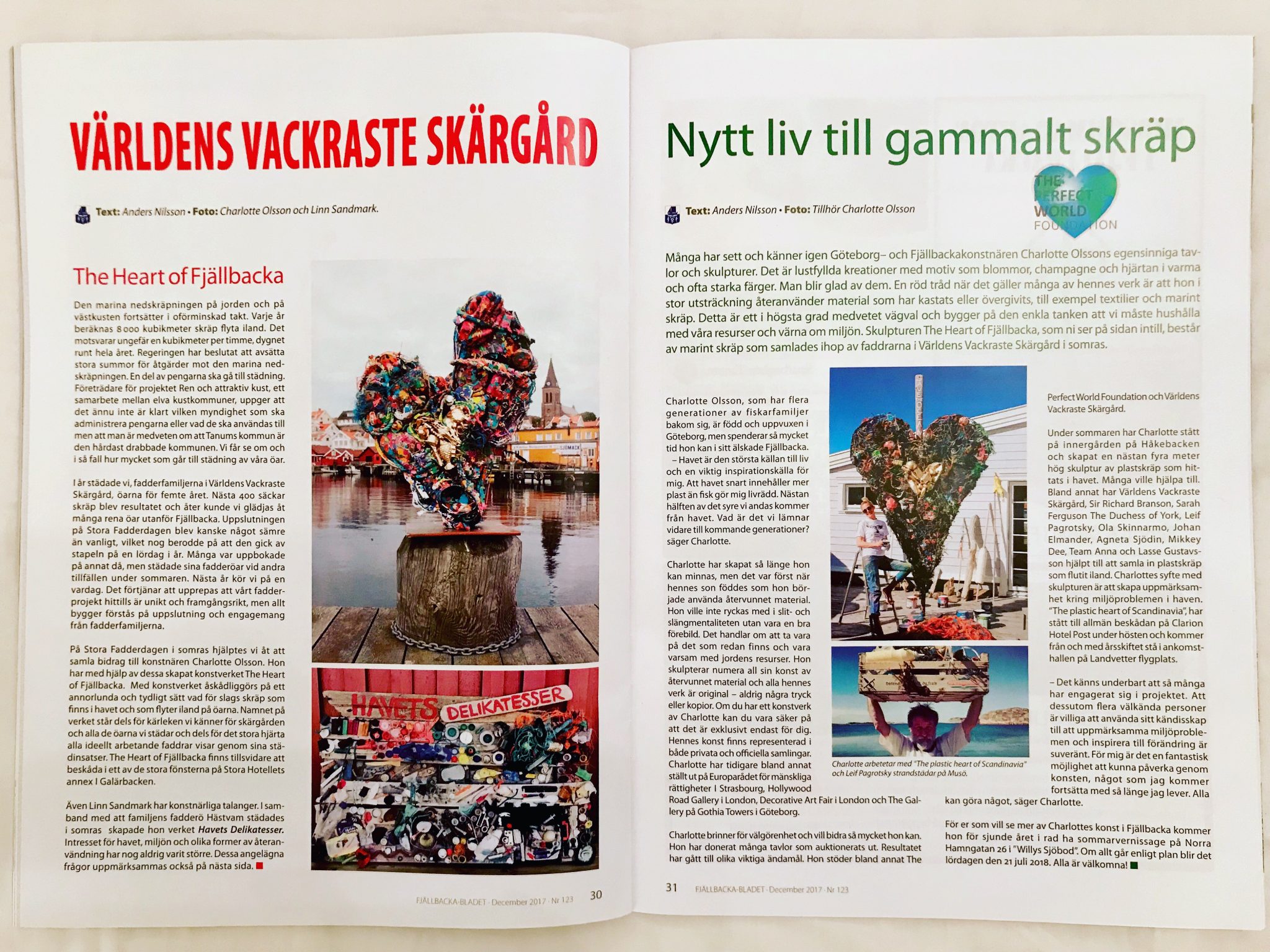 Out and about ? My champagne scarf "Hocus Pocus" is featured in the November issue (2017) of th Swedish magazine Må Bra. "Unlike synthetics, silk has a genuine ability to heat when it's cold and cool when it's hot" That's one of the reasons I always work with sustainable products! Thank you Katarina Althin for the beautiful style and for using my products!
The latest issue (no45 2017) of the Swedish weekly magazine Svensk Damtidning has a nice article about my work. I'm proud to spread the word!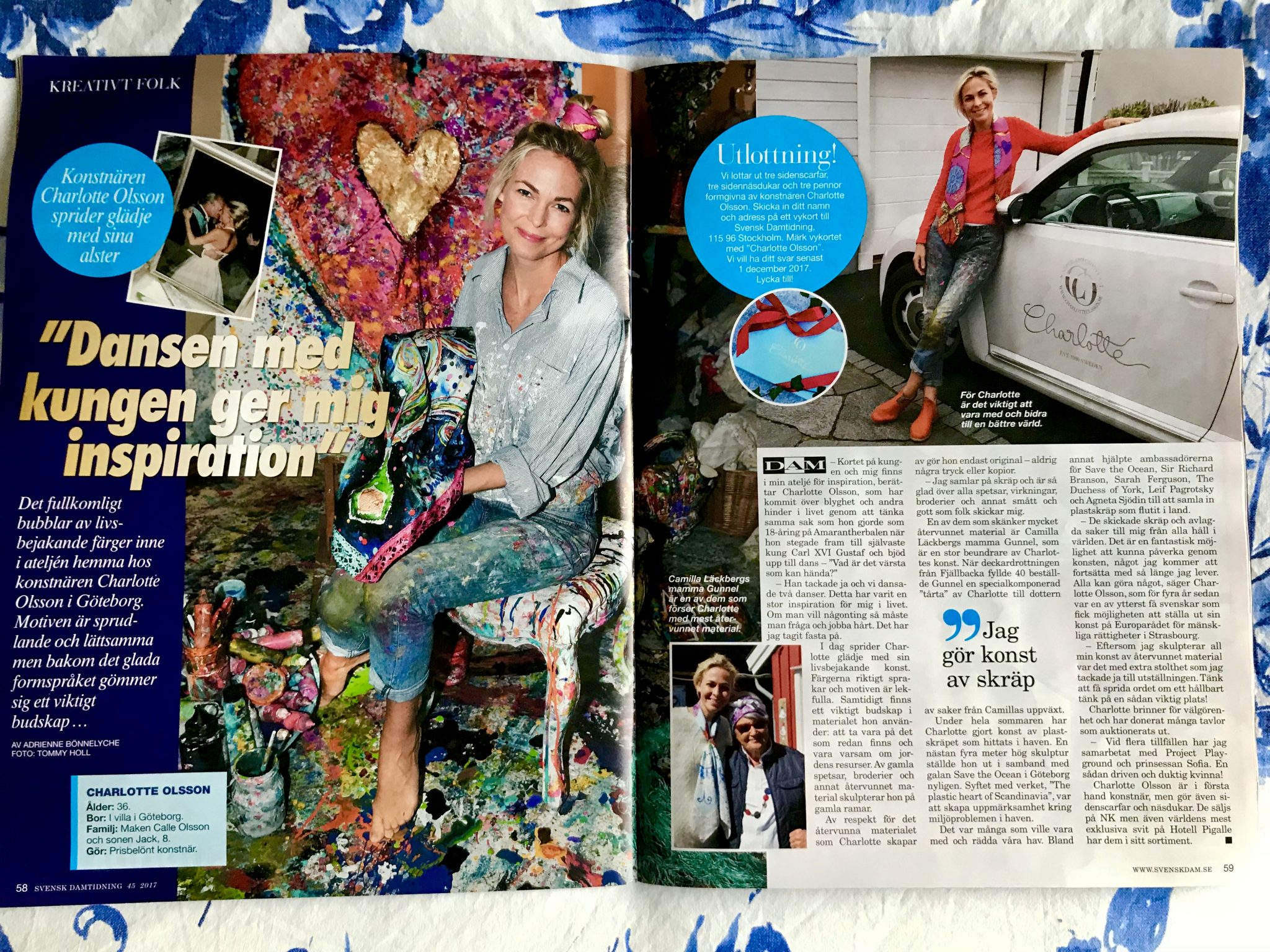 Inspiring, cool and beautiful Sarah the Duchess of York looking absolutely fabulous in "Hocus Pocus" scarf in the latest issue of Svensk Damtidning (no 41 2017)
AND she was rocking the bag that I made from plastic waste from the ocean
The Duchess is truly standing up for our planet ❤
Vad har Branson, Pagrotsky, Elmander, Sjödin och Skinnarmo gemensamt? Klicka här för att läsa mer: CharlotteOlssonArt
The Swedish Newspaper ReCyklinG on the 28th of Agust 2017 Read it HERE
Bohusläningen 28 juni 2017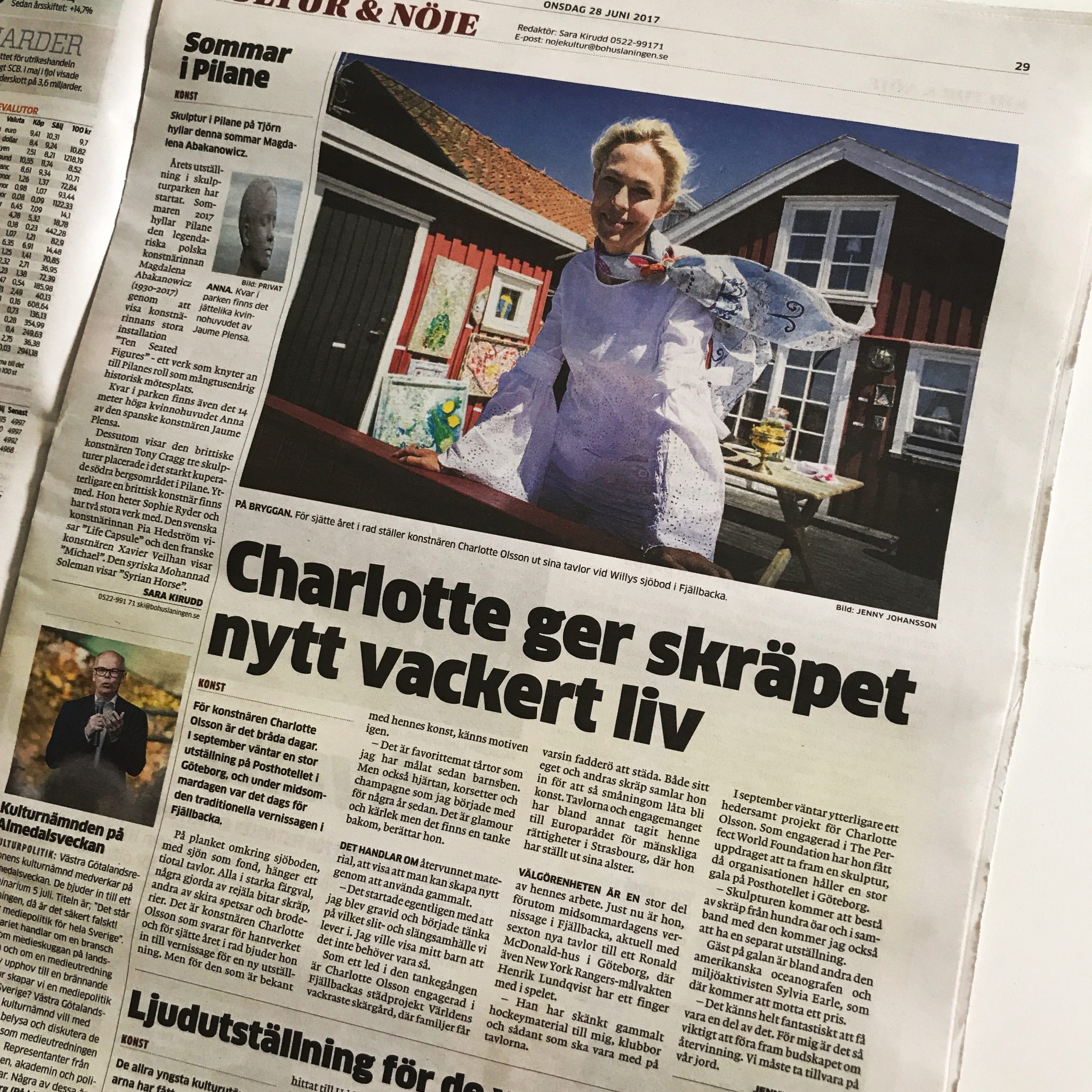 Fjällbackabladet sommar 2017:
Strömstad Tidning 27/6 2017:
Strömstads Tidning 21/7 2016: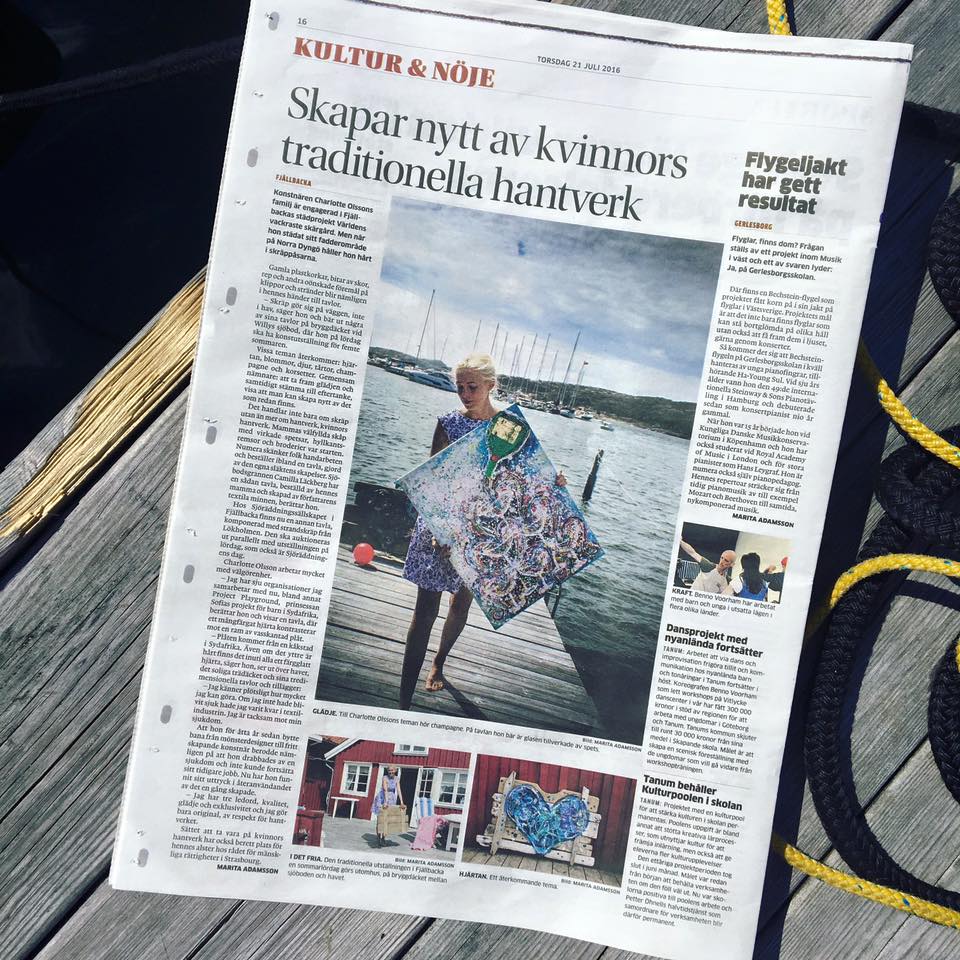 Lerums Tidning 18 maj 2016:
http://www.lerumstidning.se/2016/05/gladjen-viktig-for-charlotte/
Göteborgs Posten 6th of November 2015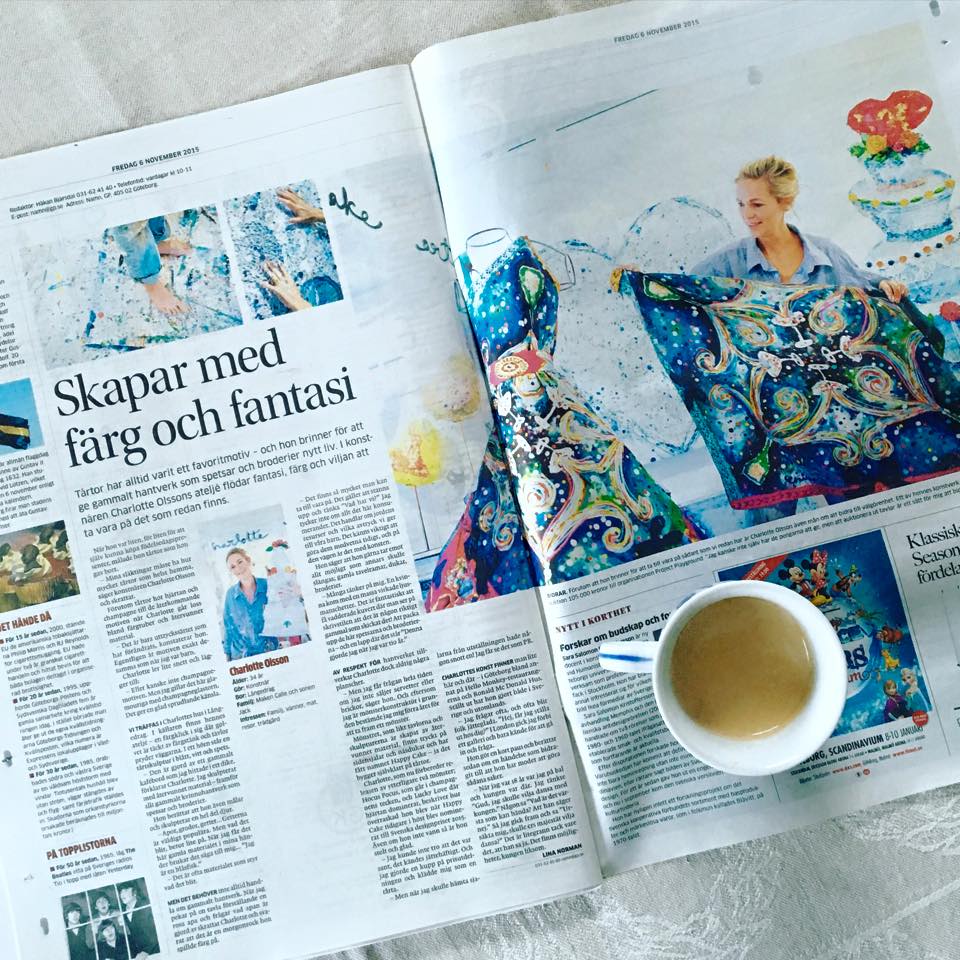 Tidningen Väster September 2015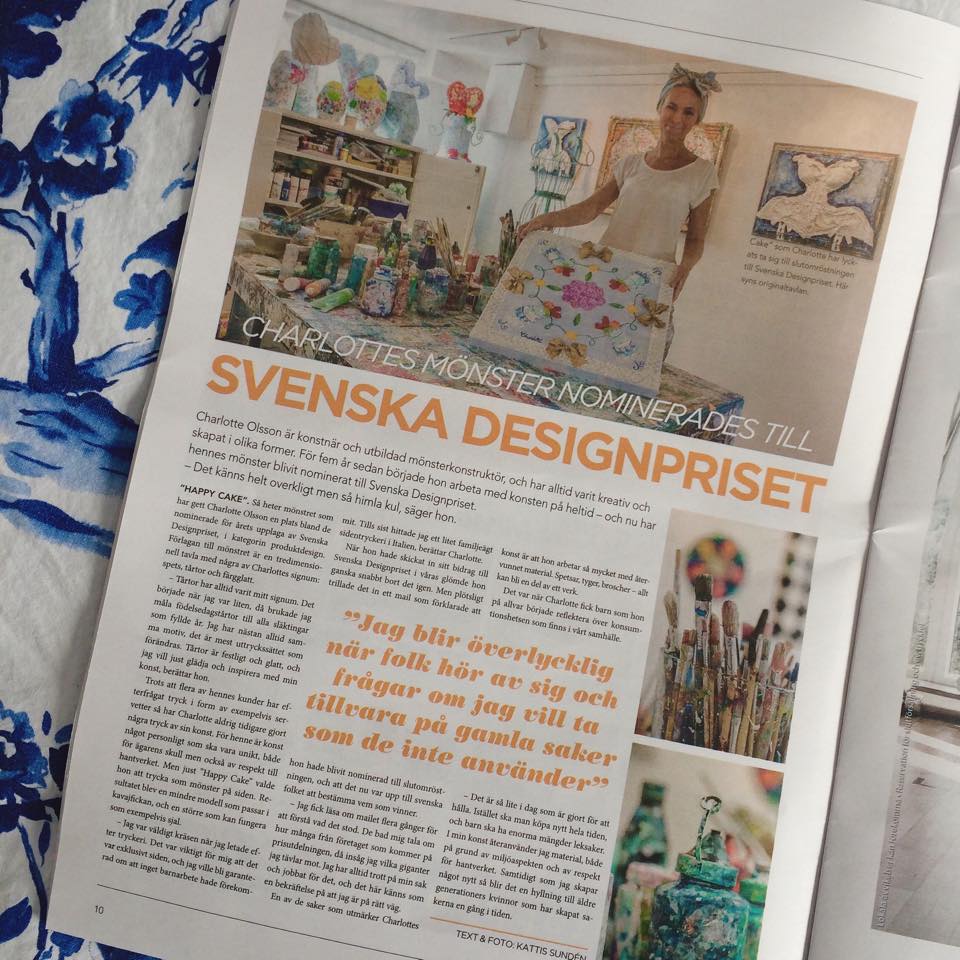 Leva&Bo September 2015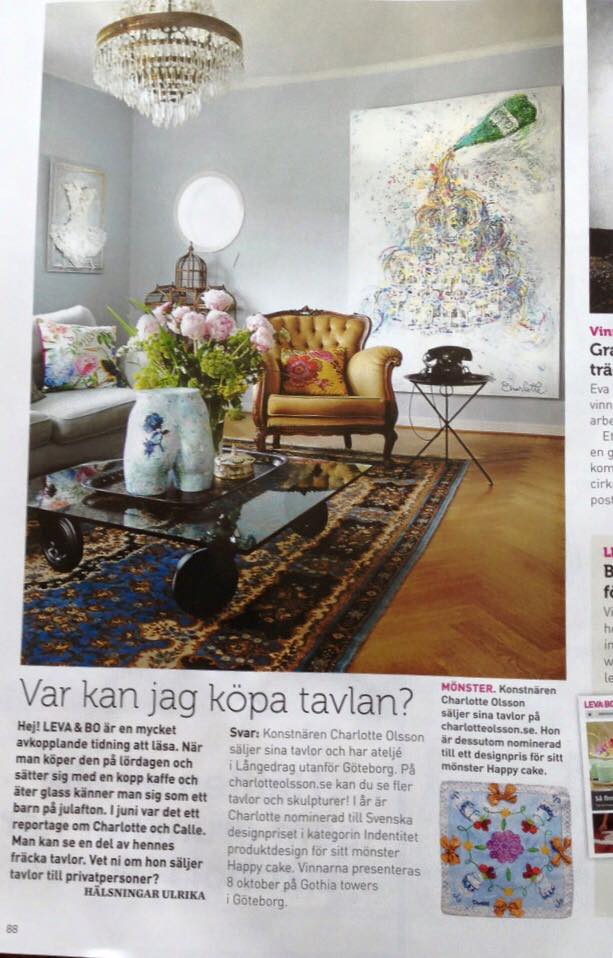 Tidningen Väster, September 2015
Leva & Bo, July 2015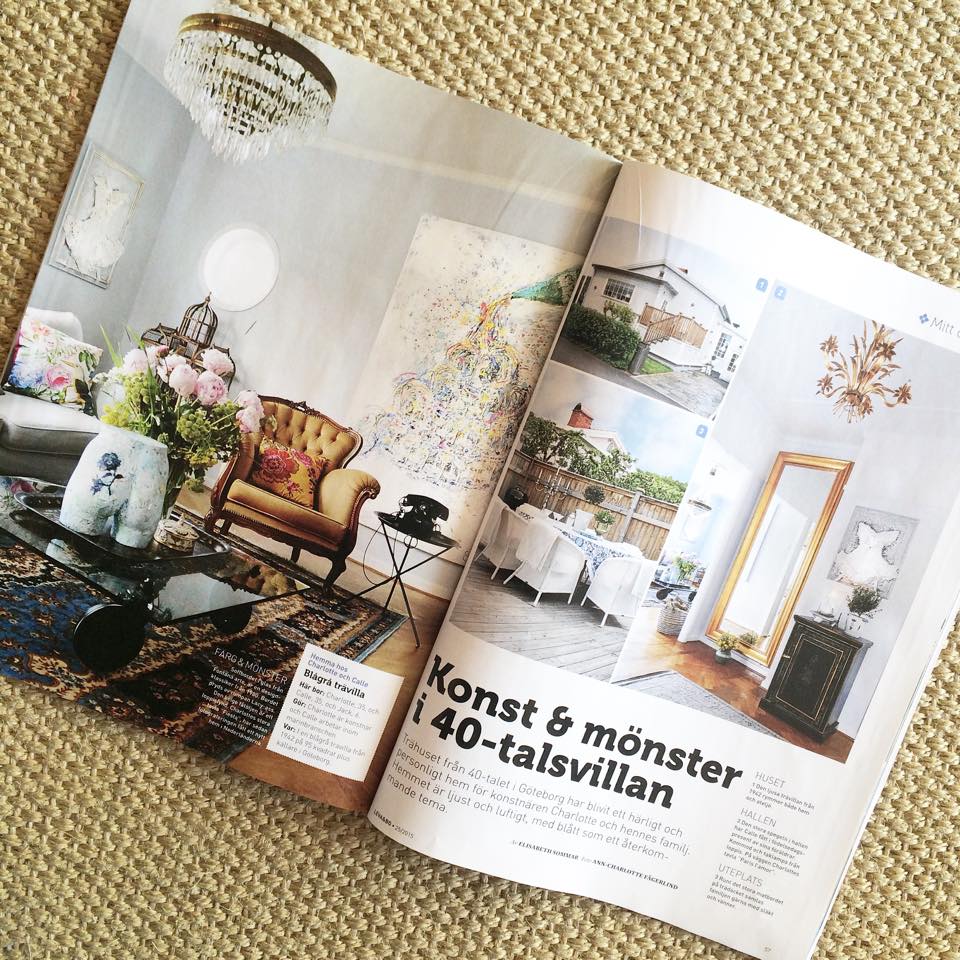 Leva & Bo, July 2015
Fjällbackabladet, 12 dec 2014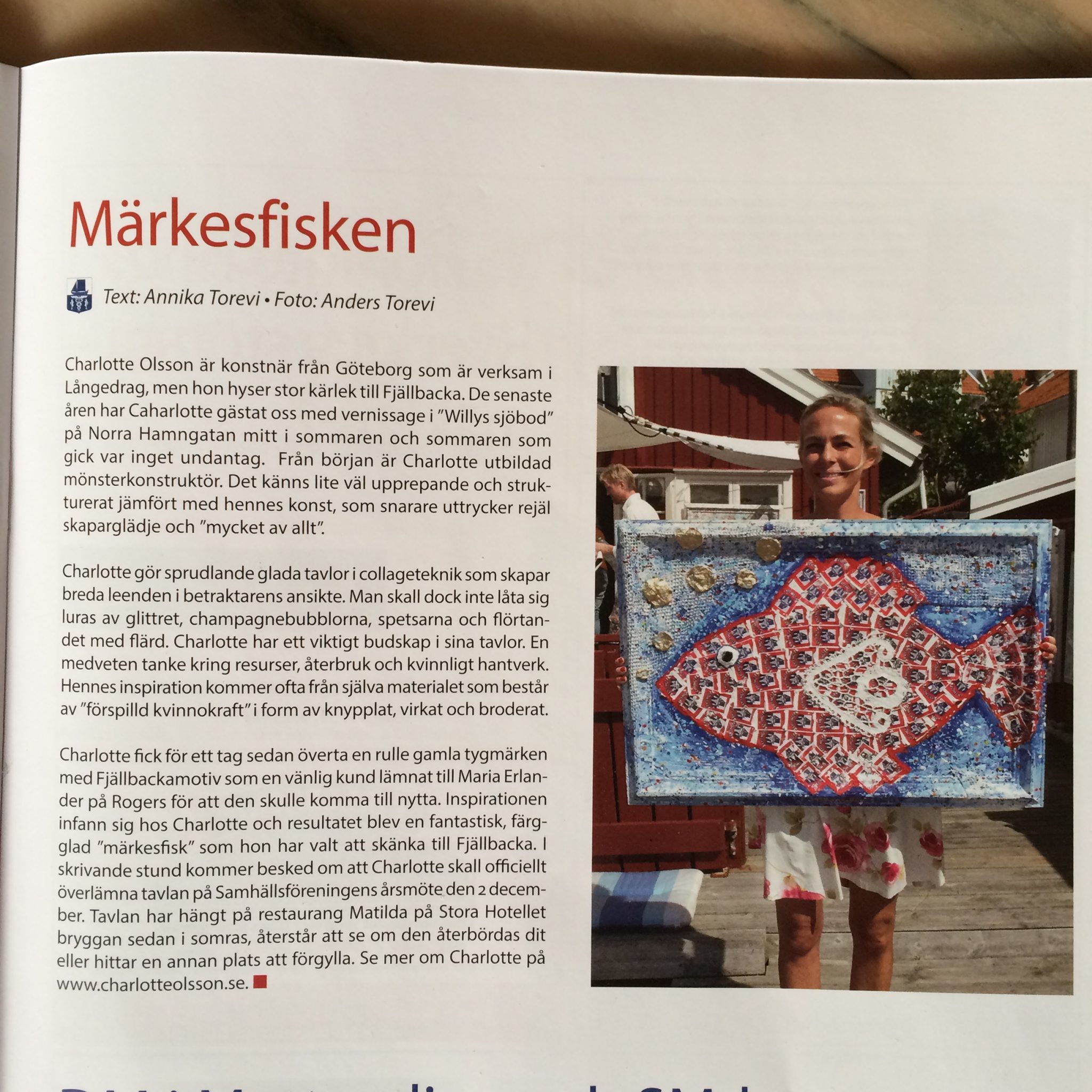 Göteborgs Posten 1 dec 2014 http://www.gp.se/bostad/1.2558974-ett-hem-i-ljusblatt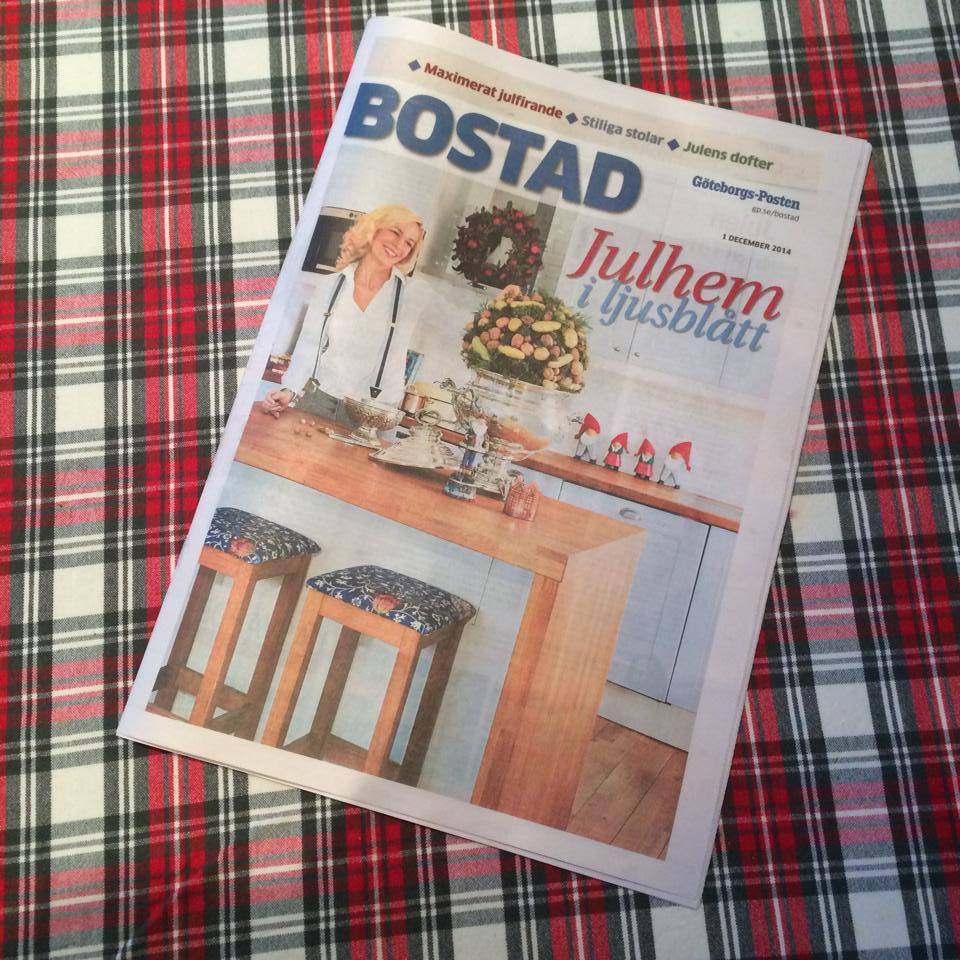 Gods&Gårdar September 2014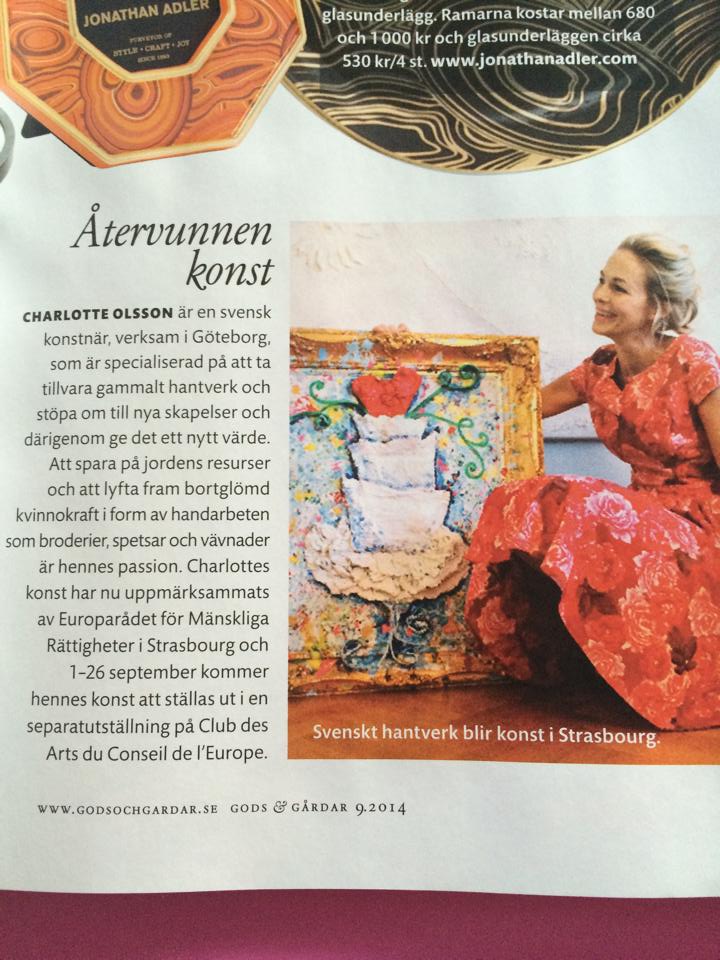 Länk till 10 sidor artikel i Aftonbladet augusti 2014: http://hemma.aftonbladet.se/2014/08/vart-hus-kallas-herrgarden-pa-hornet/
Strömstad Tidning 29/7 2014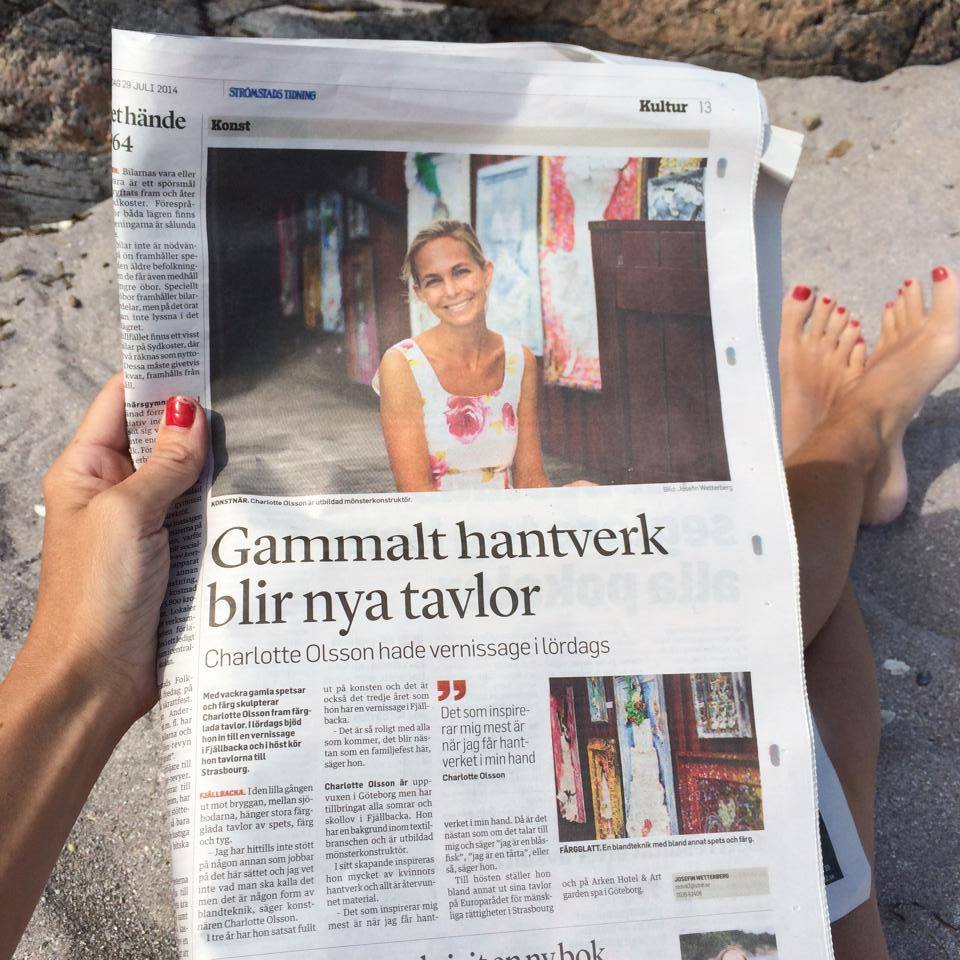 My interview broadcasted on TV4 News Gothenburg. You can see the clip here. Enjoy! CharlotteOlssonTV
——————————————————–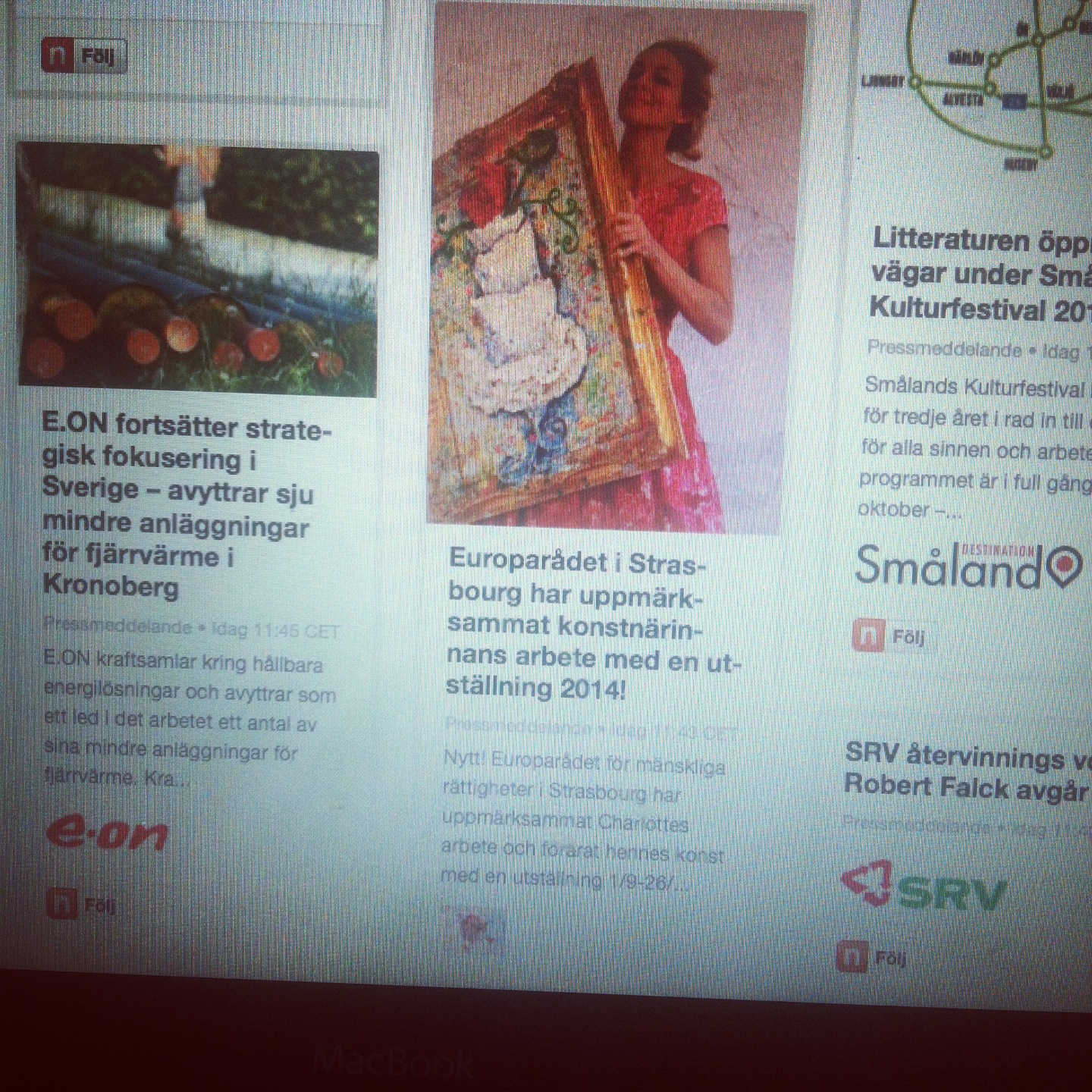 http://www.gp.se/guiden?&guide_eid=52e7c795178474000906622d
Smålandsposten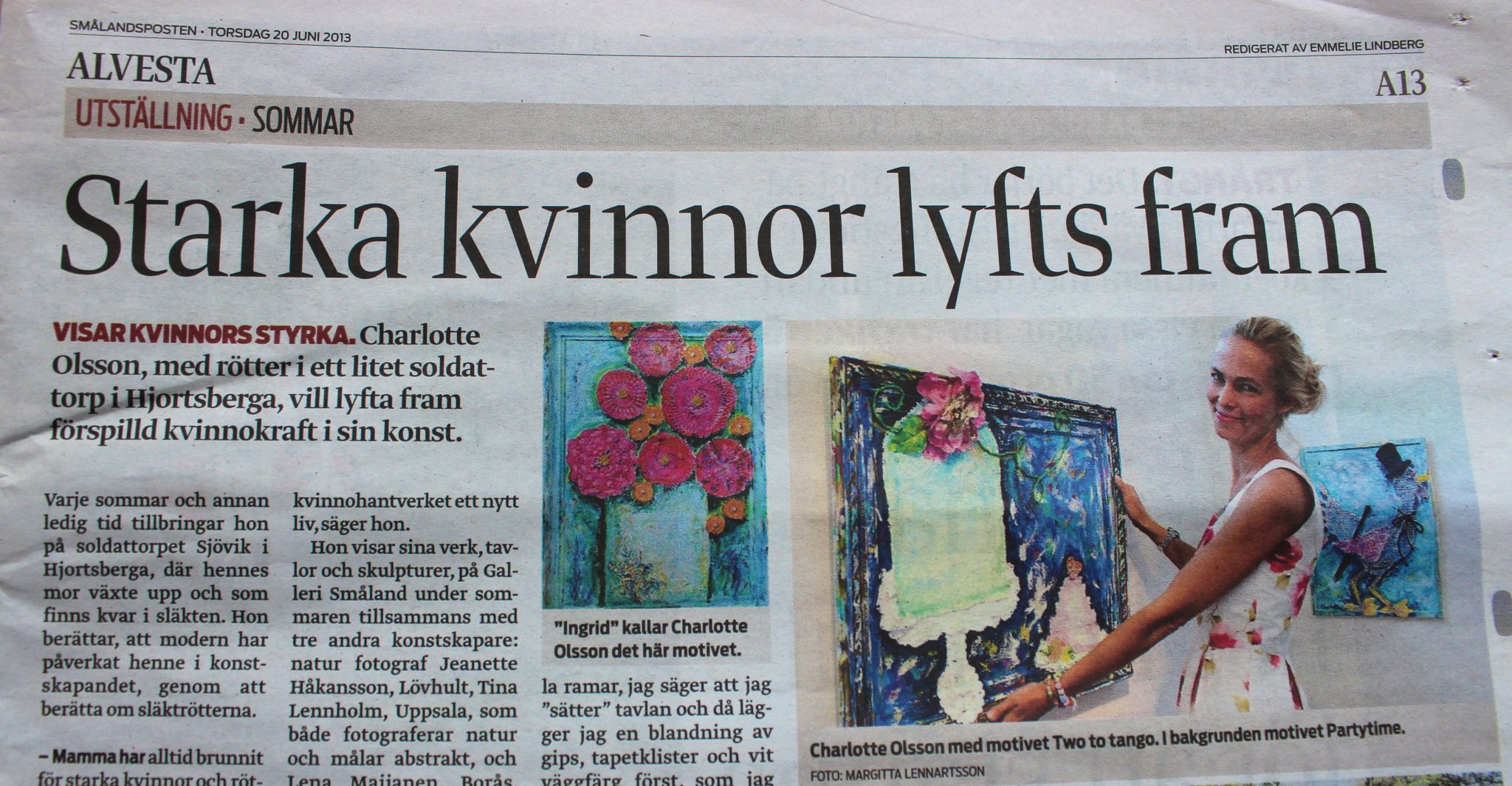 Göteborgs Posten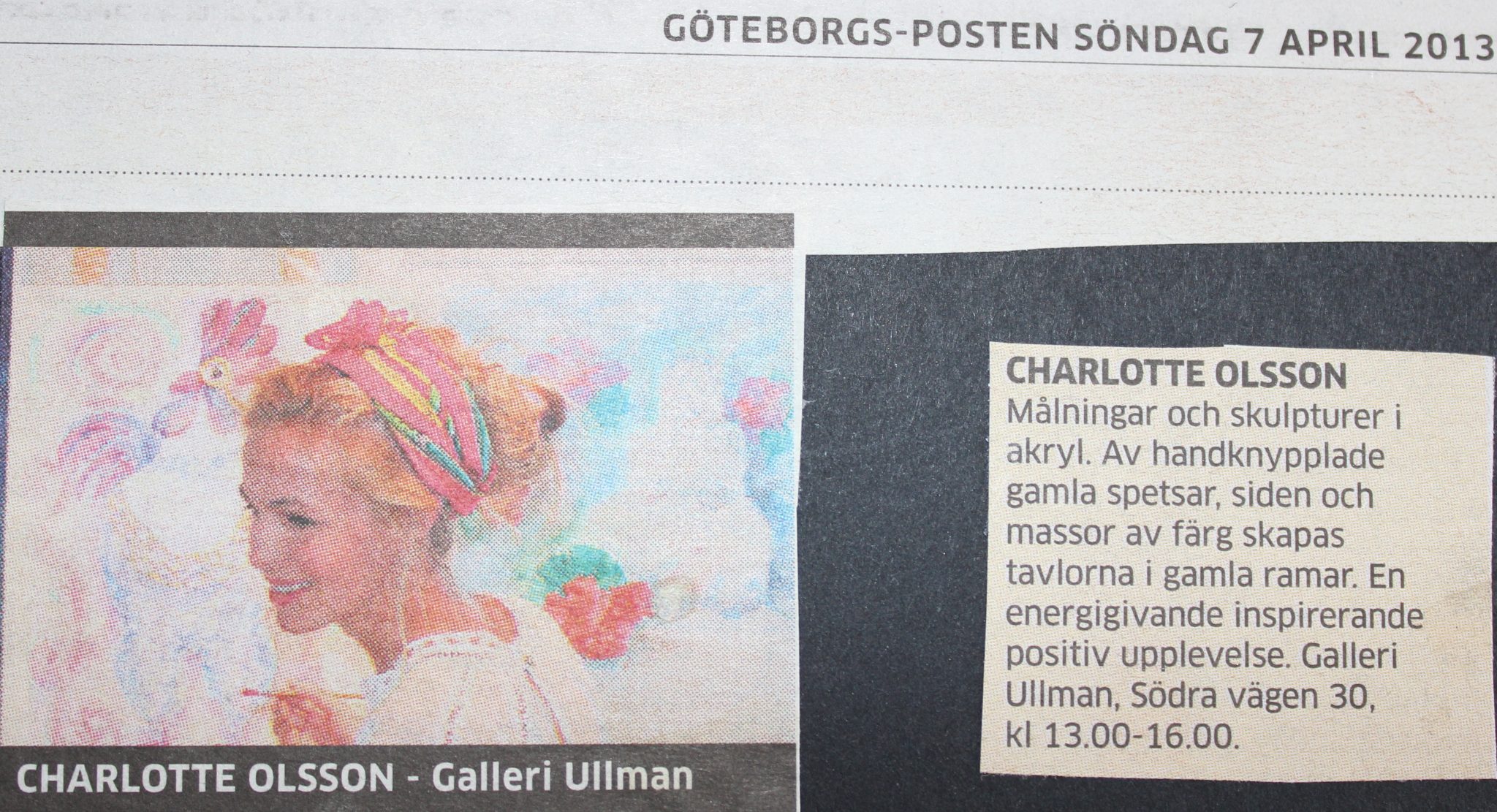 Två hela uppslag i Hemmets Veckotidning (n27) 2013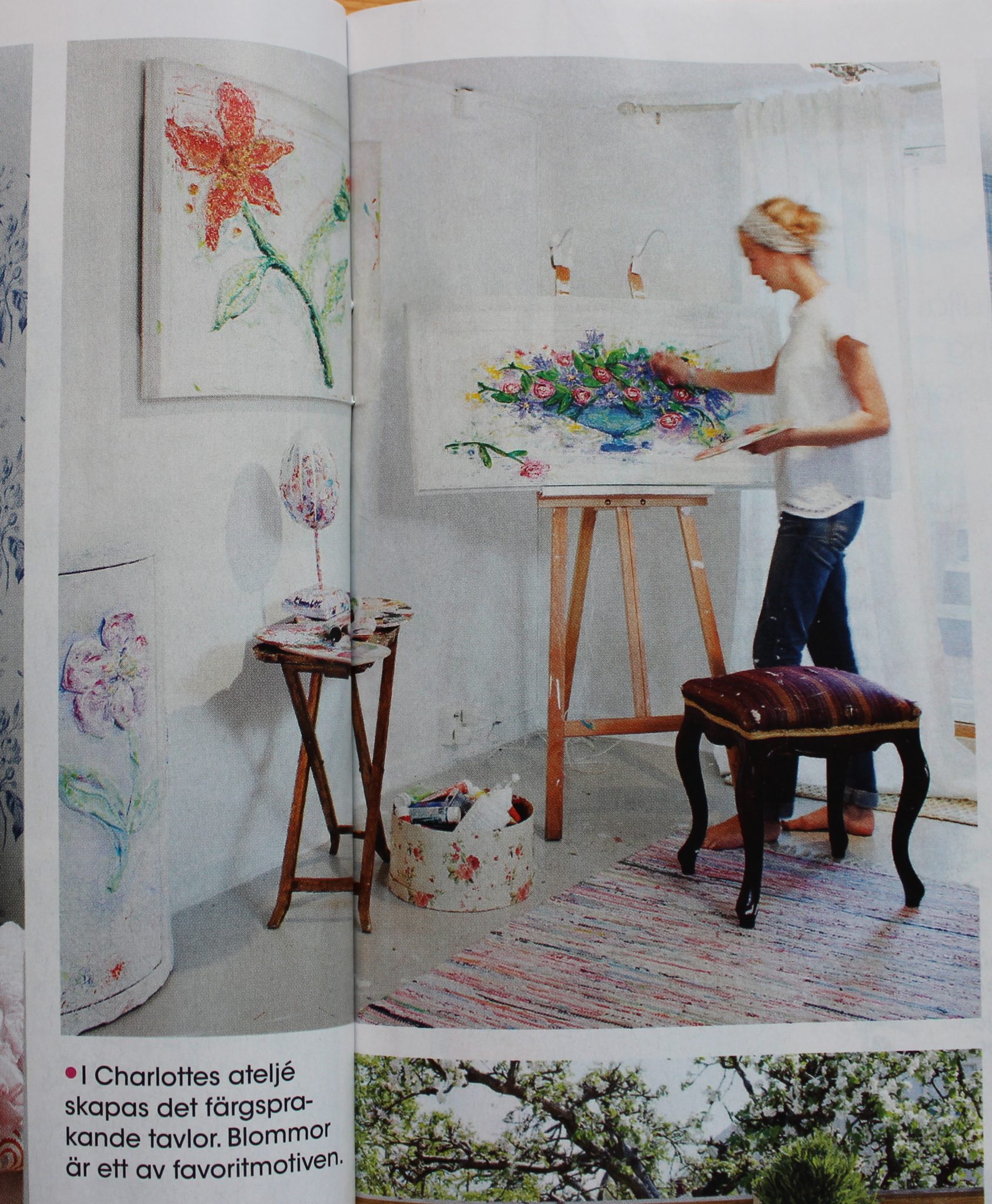 http://www.direktpress.se/goteborg/Vaster/KulturNoje/Charlotte-gor-ny-konst-av-gammalt-kvinnohantverk/